The Office of International Education (OIE) is open during normal institute business hours, Monday- Friday 8:30 a.m. until 4:30 p.m. EDT and is closed on Institute holidays and during inclement weather events. Starting in the spring 2021 semester, the Office of International Education is offering services in a hybrid fashion with in-person services offered by appointment only. 
Advising Hours
International Student and Scholar Advising is the opportunity to discuss questions about your visa status directly with an international services expert. If you need advising services outside of these hours, you are encouraged to contact info@oie.gatech.edu. Some example topics you can learn more about in advising include: 
ISSS Appointments
If you are unable to join us during drop-in advising, you are encouraged to review our appointment availability. We are limited in the number of appointments we can provide each week. If you review the calendar and find that no times are listed, this means that all appointments have been booked for the week and we encourage you to either join us during drop-in advising or email your inquiry to info@oie.gatech.edu. 
As we implement virtual advising appointments, we ask for your patience and support with the following parameters:
Students will be able to dial-in to a meeting or use a microphone on their computer to meet with an advisor virtually.
Each advising slot will be up to 15 minutes in length. In the event the advisor cannot get to all your questions during the 15 minute slot, the advisor will collect your information and schedule a follow up appointment.
Students and exchange visitors may use this link to choose an advising slot: https://georgia-tech-international-student-scholar-services.appointlet.com
Students and exchange visitors may book a virtual appointment up to one business day in advance.
Choosing Your Appointment
Once you choose an appointment, you will receive an e-mail that OIE received your appointment request. An advisor will confirm the virtual advising appointment within one business day. A second e-mail will both confirm the appointment and provide the link to the virtual appointment.  
General Advising Information
Working with Advisors
Advisors in our office are highly knowledgeable in the interpretation and application of federal regulations governing student and scholar immigration statuses. We recommend visiting our website to review information regarding your situation and if you still have questions we encourage you speak to an advisor regarding your status or your eligibility for a particular immigration benefit. Advisors are also trained in a variety of social and cultural areas, including intercultural communication and cultural adjustment.
  Advising Limits
Advisors can discuss a number of issues with students and scholars, including immigration regulations, Institute policies, and resources to assist with cultural adjustment and academic success. Be aware advisors will provide referrals for the following matters:
Legal issues, including criminal and civil court cases
H1-B employment information and visa types beyond F-1 and J-1
Change of Status
Preparation of USCIS Forms
U.S. tax law
Mental health and personal counseling needs
Advisors may provide some basic guidance or support and a referral to another office on campus or recommend you seek assistance from outside professionals when your needs extend beyond our professional limits, as outlined above.
 Confidentiality
Advising sessions are confidential. Records of meetings with advisors are only available to staff members in our office and other Institute personnel who have a professional need to know about your visit. Advisors may discuss complex cases with each other when there is a question of interpretation of immigration regulations.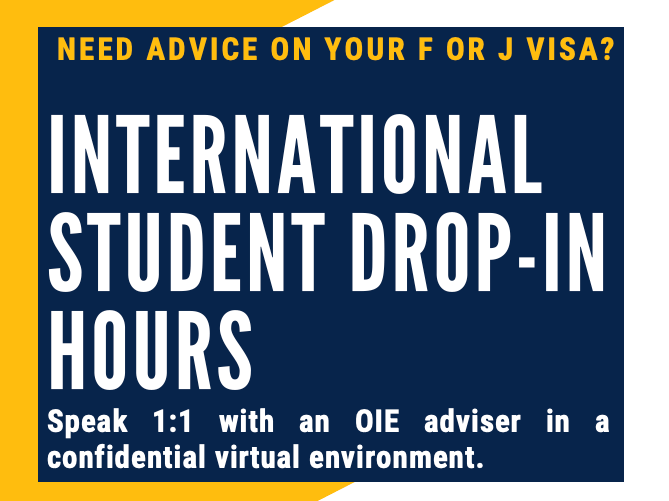 Due to a high volume of students joining us for advising, advisors will not be meeting with those joining to ask about processing times or those requesting an expedite. These tickets will automatically be closed. For more information about current processing times, please review our website.
As outlined on the website, processing times are counted in business days. Monday, Tuesday, Wednesday, Thursday, and Friday are considered business days. Institute holidays are not considered business days. The Institute holidays can be found in the following link: https://hr.gatech.edu/payroll. If you find that your request is outside of processing time, you can submit a report to our office online. Our team will review this information and follow up with you to provide an updated timeline for the request or guidance on next steps.
Upcoming Drop-In Advising: 
Use the join link below to enter the waiting room for OIE Drop-in Advising. Follow the instructions on the screen to request a ticket in the advising queue. Once your ticket is next in the queue, an OIE adviser will admit you to the Drop-in Advising session. Depending on the volume of individuals requesting advising, wait times will vary and could be more or less than the current average wait time of 25 minutes. 
We thank you in advance for your patience. If you cannot join during drop-in advising, we encourage you to email our office at info@oie.gatech.edu or visit the Advising page and request an appointment with an OIE adviser.
*OIE has been made aware that those joining with Linux are experiencing issues joining advising. We encourage you to use alternate software or join via the browser.
| | | |
| --- | --- | --- |
| Monday | 9:00 AM-12:00 PM ET | |
| Tuesday | 1:00 PM-4:00 PM ET | |
| Thursday | 1:00 PM-4:00 PM ET | |
Issues Accessing the Meeting? Try these steps:
OIE has been made aware that those joining with Linux are experiencing issues joining advising. We encourage you to use alternate software or join via the browser.
Refresh your browser and see if the meeting link updates. On occasion, the meeting room link must be updated when challenges occur in previously scheduled meeting rooms. 
Try downloading the Zoom desktop app: https://gatech.zoom.us. Use the Sign In and enter your GT username it should open a new tab on a browser and force a GT login.
Try downloading the mobile app and attempt to join the meeting it should force a GT login pop-up
Support Systems: Chrome, Safari, Firefox
Users who pair the Desktop App/Browser/Mobile App with the phone for audio may experience issues moving to a breakout room.
iStart E-form Requests
The Office of International Education utilizes an online portal called iStart to manage student and scholar requests.  An E-Form is an electronic application accessed through iStart to request a benefit, such as an I-20 or DS-2019 update, work authorization, travel authorization, etc. The E-forms in iStart will provide you with all the information necessary. You will log into iStart and use your regular GT user name. Once all steps are completed in the application or request process, including the academic department authorization (if required), OIE-ISSS will conduct its review and approve or deny your request.
 If APPROVED, you will receive an e-mail to pick up the final document, such as a letter or an I-20/DS-2019.
 If DENIED, you will receive an e-mail explaining the reason for the denial OR a request for additional information for further consideration.
Additional Contact Information
The Office of International Education can be reached for general questions via email at info@oie.gatech.edu or via the Advising Hours advertised above. 
In case of an emergency (death, severe illness, or arrest) while the office is closed, please contact GT Campus Police, 404-894-2500, a member of our 24 hour emergency response team will assist you. 
If you have questions regarding:
Undergraduate Admissions: (404) 894-4154
Graduate Admissions: (404) 894-1610
Registrar's Office: (404) 894-4150
Bursar's Office: (404) 894-4618
GT Language Institute: (404) 894-2425
Student Health Insurance: (404) 894-1420
Center for Career Discovery and Development: (404) 894-2550
Student Center Information Desk: (404) 894-2788.