Virtual Arrival Help Desk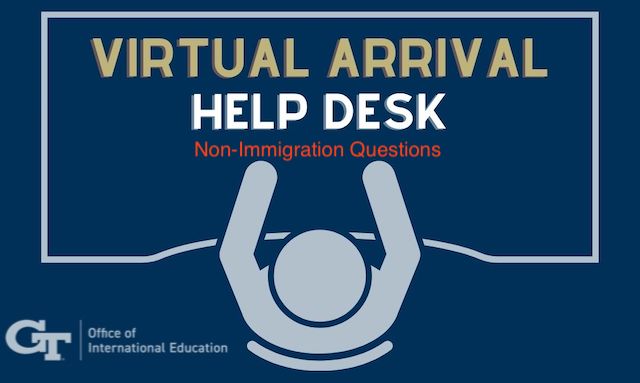 The Virtual Arrival Help Desk is peer-to-peer arrival support for incoming students focusing on general questions for international students arriving at Georgia Tech! You can join a session with general questions related to the next steps upon arrival, where to go for various information, and OIE Check-In. Please note that this is not a space for immigration advising. If you have immigration questions you may join our virtual drop-in advising: https://isss.oie.gatech.edu/
Drop in if you have non-immigration questions. We are here to help!
Date
August 8 - September 2, 2022; Monday to Friday.
Time & Location
Morning Sessions

Afternoon Sessions
Drop-in Advising
Learn More
Due to a high volume of students joining us for advising, advisors will not be meeting with those joining to ask about processing times or those requesting an expedite. These tickets will automatically be closed. For more information about current processing times, please review our website.
As outlined on the website, processing times are counted in business days. Monday, Tuesday, Wednesday, Thursday, and Friday are considered business days. Institute holidays are not considered business days. The Institute holidays can be found in the following link: https://hr.gatech.edu/payroll. If you find that your request is outside of processing time, you can submit a report to our office online. Our team will review this information and follow-up with you to provide an updated timeline for the request or guidance on next steps.
Drop-In Advising: 
Upon clicking the link below, follow the instructions on the screen and wait until an advisor admits you into the advising session and into a breakout room. We ask that you wait patiently in the waitroom as current wait times are averaging about 45 minutes. Depending on volume, wait times will vary and could be more or less than the current average wait time. 
We thank you in advance for your patience. If you are unable to join during drop-in advising, we encourage you to email our office: info@oie.gatech.edu.  
*OIE has been made aware that those joining with Linux are experiencing issues joining advising. We encourage you to use alternate software or join via the browser.
OIE Info Session
Financial Assistance for International Students