24 Month Bar preventing repeat participation and 12 Month Bar preventing participation:
The 12 and 24 month rule affects J-1 exchange visitors who have been in the U.S. on a J-1 visa previously, and wish to return, using the J-1 visa. The bars prohibit certain "repeat participation" in the Research Scholar or Professor categories only. Depending on what your previous J category was, you may be subject to a 12 month bar, a 24 month bar or have no bar at all. When a scholar either concludes or leaves a Research Scholar or Professor J-1 program, whichever happens earlier, the scholar's record becomes inactive in SEVIS. It is from this point that the 24-month bar time starts to accrue. The 24-month bar will be in effect regardless of whether status in the program is a few months in duration or the full five years allowed. Please note, the bars may also apply to your J-2 dependent(s). 
The chart below shows how long you would have to wait (the 12 or 24 month bar) before you could request to have a new J-1 Research Scholar or Professor visa based on what your previous J category was. If you have never before had J-1 visa sponsorship, then the bars do not apply to you.
It is important for OIE to be informed of a scholar's departure and their future plans, so that the scholar's SEVIS record can be properly maintained to facilitate their possible return to the U.S. In some cases, it might be possible to keep a scholar's SEVIS record active if they will be out of the country yet continuing the program. We recommend contacting an advisor in OIE to discuss a visitor's plans and intention to return to the U.S. in the future so the SEVIS record may be correctly managed.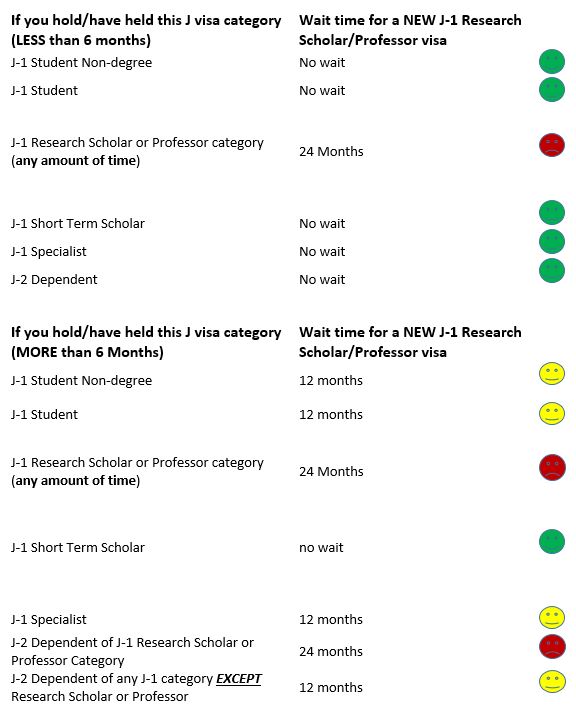 The 24-month bar should not be confused with the two-year home residence requirement (212e). These are two different regulations.
The two year rule (212e) may apply to visitors in any J category. The 24-month bar only applies to J visa holders who enter the U.S. on the Research Scholar or Professor categories or as a J-2 dependent of a J-1 Professor or Research Scholar.
For more information on the Two-Year Home Residence Rule, review our website, /isss/212e-two-year-home-residency-requirement.